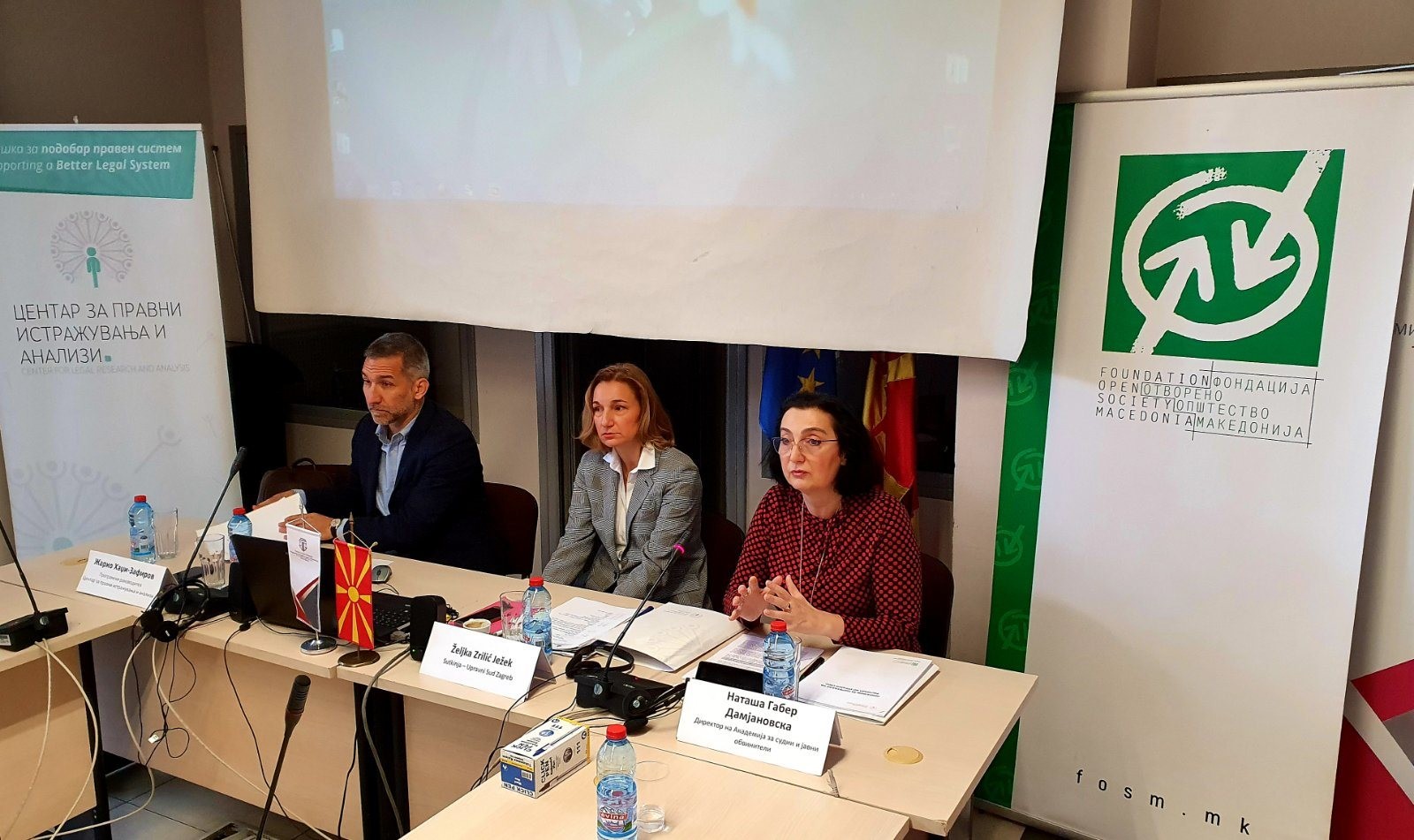 For the first time on March 10 and 11 at the Academy for Judges and Public Prosecutors, was held training for conducting a public hearing in administrative dispute for judges of the Administrative and High Administrative Court.
The purpose of implementing such a project is in line with the new amendments to the Law on Administrative Disputes, realizing the idea of ​​improving the efficiency and transparency of the administrative judiciary.
The director of the Academy for judges and public prosecutors – PhD. Natasha Gaber Damjanovska greeted the training and noted that this type of trainings, which involve international experts and practices with similar reform process, are always welcomed, because they allow wide range of discourse among the expert and professional fella. The programme manager of CLRA, Zharko Hadzi Zafirov added that the international cooperation and above all the interest of the judges should be in line with the promotion of the system of administrative judiciary.
The Administrative and High administrative court judges had opportunity to participate in training with an experienced judge and to applicate a big part of the regional and European experience and practices in the area of administrative judiciary.
The training was held regarding the Rulebook for conducting public hearing, prepared by the, judge Zeljka Zrilic Jezek, from the Administrative court in Zagreb. The judge pointed out her experience and learned lessons of the most important aspects of holding a public hearing, the preparation of a public hearing (preliminary examination of a complaint, delivery of a response to a complaint, scheduling a public hearing), principles of a public hearing, presentation of evidence in an administrative disputes, hearing of parties and holding of order. The Rulebook at the same time will be basic for preparing the curricula for conducting a public hearing in administrative dispute, as a part of the AJPP programme for administrative judiciary.
The project ,,Administrative justice according to the EU standards'' is funded by the Foundation Open Society – Macedonia.