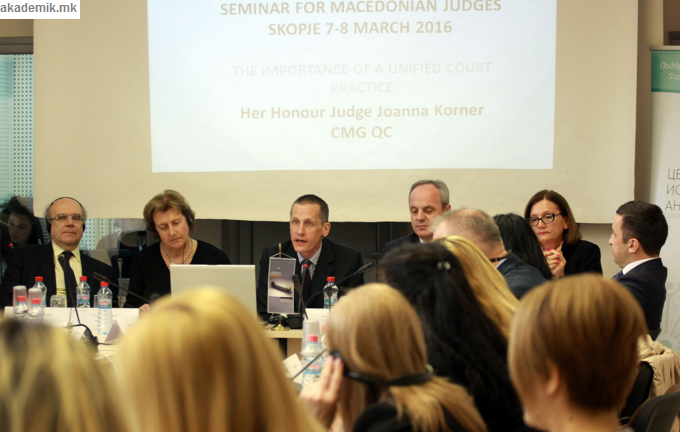 CPIA in cooperation with the Academy for Judges and Public Prosecutors and Judicial College from London, supported by the British Embassy Skopje conducted the seminar "Using unified court practice".
The seminar was held on two separate events attended by judges in charge of court practice in Macedonia that also monitor the court practice of the European Court of Human Rights as well as representatives of the Bureau for representation of Republic of Macedonia in front of the European Court of Human Rights.
Introductory speeches were given by Adnan Jashari, Minister of Justice of the Republic of Macedonia, HE Charles Garrett, Ambassador of Great Britain in the Republic of Macedonia and Mrs. Aneta Arnaudovska, director of the Academy for Judges and Public Prosecutors "Pavel Shatev".
The Director noted that the international documents impose the imperative judges to write decisions in a clear and understandable way and they can be properly and legally justified and reasoned. She added that recent reports by the European Commission indicate the need for the judges to use arguments as standards and principles established by case law of the ECtHR, whose decisions under several laws, oblige the judges to directly apply it when deciding.
The Minister of Justice Adnan Jashari, among other things, pointed out that by the unification of judicial practice we will get to the goal – court decisions in the future to be the same when it comes to the same of similar cases, or when they have similar circumstances.
The British Ambassador Charles Garret pointed out that the rule of law is very important for the democratic development of any society and their prosperity. He added that in Macedonia, as in many other countries, there is widespread debate about the role of the judiciary and judicial capacity to do its job in the best interest of the people.
Presentations and lectures related to the topic of the seminar were given by the judges from the Judicial College of London, Joanna Korner and Mark Ockelton.
The topics covered within the seminar were "Importance of unified court practice", "The importance of international case law (ECHR and ECtHR)" and "The decisions of the ECJ and ECtHR and the application of the cases in the courts in Macedonia".