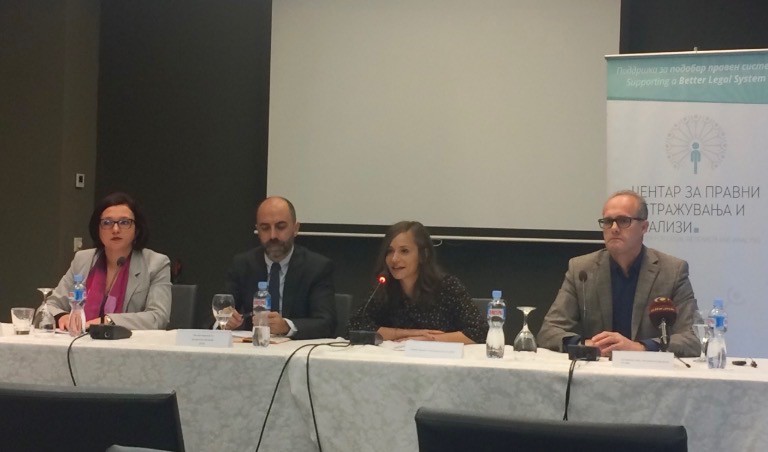 On 24 of October 2018, the Center for legal research and analysis held a press conference to officially mark the start of the First national measurement of the performance of the judiciary.
The measurement of the performance of the judiciary is conducted by the the Center in cooperation with the Ministry of Justice and the Judicial Council of the Republic of Macedonia, and all key stakeholders in the judiciary will be involved in the process. The process of measuring the performance of the judiciary is supported by the British Embassy in Skopje, within the framework of the program "Improving the transparency, legal certainty and efficiency of the judiciary in Macedonia".
Nikola Jovanovski, Program Manager at CLRA, stressed that the Matrix as an instrument that is part of the Strategy for Reforms in the Judiciary Sector 2017-2022 aims to assess the current situation in the judiciary, to identify the problems and the strengths of the judiciary, and of course to provide guidelines for which areas of the judiciary need to be improved in line with the international standards. The survey will cover about 7,000 respondents from all target groups. At the same time, he stressed that although the measurement does not involve individual assessment of judges or public prosecutors, the goal is to see which of the target groups has a certain position on a particular issue.
The beginning of the first national measurement was welcomed by the State Counselor at the Ministry of Justice, Dr. Ljubica Karamandi Popcevska, who pointed out that the obtained data will lay the basis for the analysis of the efficiency of the judiciary, thus creating the next strategic determinations in the judiciary. She also stressed that this process is essential for the Ministry of Justice since it will be conducted in parallel with the screening process for Chapter 23 – Judiciary and Fundamental Rights.
Supreme Judge Xhemali Saiti stressed that it is necessary to assess the current situation in the judiciary. In this direction, Judge Saiti also emphasized the support provided by the Association of Judges to the Center in this process and in all future activities.
Starting from 24 October to 14 November, this process will cover all key stakeholders in the judiciary: judges, court administration, public prosecutors, state attorneys, attorneys, mediators, notaries, enforcement agents, media, parties in court proceedings and the Academy for Judges and Public Prosecutors and the non-governmental sector.
The purpose of this measurement is to measure the perceptions of all stakeholders and thus to lay the foundations for a systematic assessment of performance in the judiciary and help evaluate the reforms in this sector, which is equally important for the process of entering the European Union.
The data obtained from this survey will be compared with the data from the Judicial Council and the Ministry of Justice of the Republic of Macedonia and the international reports regarding the EU. The first official report on measuring the performance of the judiciary will be prepared in February 2019.