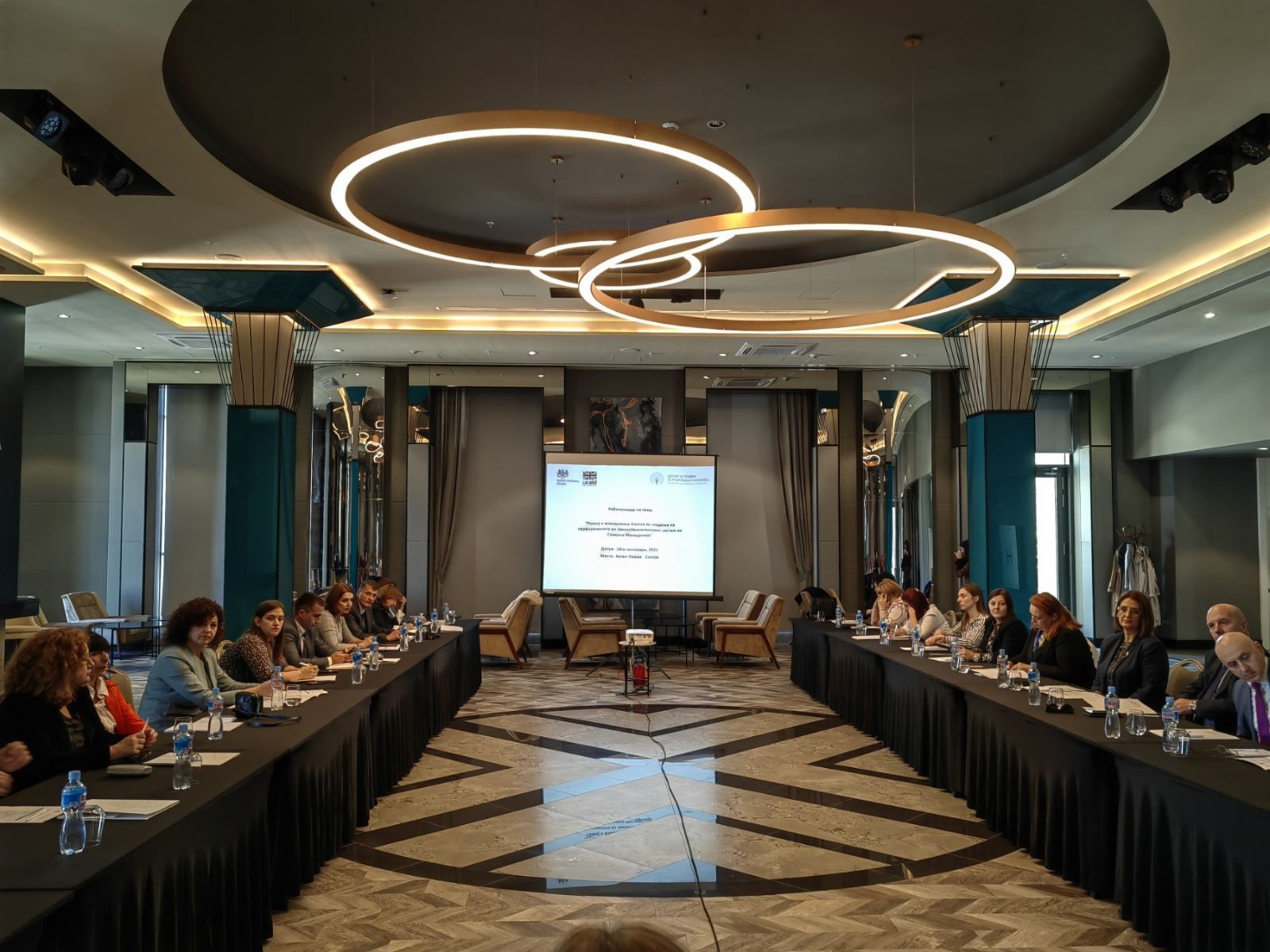 On October 18, 2022, the Center for Legal Research and Analysis organized a workshop within the project "Developing and embedding Performance Monitoring Tool (PMT) in the Prosecutorial system in North Macedonia". This project is financially supported by the Government of the United Kingdom and is а result of the continuous support that the United Kingdom provides for the improvement of justice in the Republic of North Macedonia.
This event was attended by Public prosecutors, members of the Council of Public Prosecutors and representatives from the Ministry of Justice. The purpose of the workshop was to familiarize them with the way the new tool works and what benefits they would get by using it.
The workshop was opened by the president of CLRA, Lidija S. Zafirovska, who in her opening remarks emphasized that systemic reforms are currently needed in the Public Prosecutor's Office in order to regain the trust of the citizens and improve its transparency, efficiency and effectiveness.
Domestic and foreign legal experts were present at the event. In their presentations, the domestic experts referred on the current situation in prosecutorial system in North Macedonia and for this purpose, they emphasized the importance of the functional analysis for public prosecutions prepared by CLRA. The functional analysis was of great help to identify the problems that the public prosecution system faces on a daily basis and where reforms are needed. They emphasized the benefits of using the tool in practice and presented positive examples of the application of such tools in Great Britain and Denmark. At the very end, Adis Hodzic, as an international expert on statistical analysis in CEPEJ, gave a presentation on the practical part of the tool, that is, he presented the statistical model for qualitative analysis of the work to those present.
The purpose of the event was to show future users what the tool actually is, how to use it and how it will make their work easier. The tool works in a way that, through a standardized approach to data collection and processing, develops an objective monitoring of the work of the public prosecutor's offices. Its use will allow measuring the performance of the prosecution system, identify its needs and weaknesses, and encourage the creation of more effective reform measures based on evidence, in accordance with internationally set standards.
After the presentation of the performance monitoring tool, a discussion developed between the attendees and the speakers about the tool itself, and some of them also mentioned other problems from their everyday working life.