About the Project
The Center for Legal Research and Analysis (CLRA) have started with implementation and activities of the project ''Joint involvement for better performance of the judiciary".
The project is part of the grant scheme of the EU – Strengthening the impact of the civil society in effective justice sector reforms, as part of the IPA program.
In cooperation with the Institute for Human Rights (IHR) for 30 months, CLRA together with the stakeholders  and the CSO's will work in the area of reaching better results in the judiciary and strengthening the judicial capacities for higher effectivity, accountability and transparency in the judiciary, where the final goal represents the increasing of the trust in the judiciary by the citizens of the Republic of North Macedonia.
Key activities of this project represents the development of methodology and assessment of the adopted legislation according the Strategy for reforms of the judicial sector (2017-2022) and the action plan, through assessment of the of the laws that directly affect the performance of the judiciary, development of an Advisory working group formed by the CSO's who are performing activities in the field of judiciary who will, based on the methodology, will assess the performances in the judiciary. As part of this project as well, a Joint Protocol for unified implementation and performance in the justice sector will be developed together with a document for public policies with recommendations oriented for transparent and effective justice.
In this project, the CLRA represents co-applicant of the project together with IHR as applicant of this project and partner organizations in this project are Association of Judges of North Macedonia and the Association of judicial administration of North Macedonia.
The project is financed by the EU through CFCD as part of the Ministry of finance of RNM.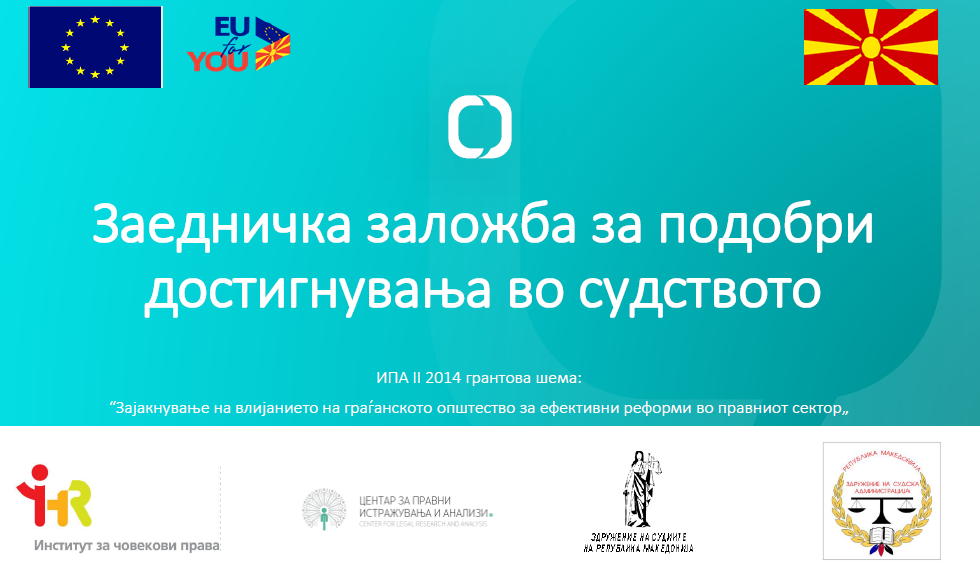 Period:
02/01/2019 - 21/09/2021
Status:
Implemented
The project is financed by the EU through CFCD as part of the Ministry of finance of RNM.